Prayer Workshop Lesson Two: "How Are We To Pray?"
KEY VERSE: "And pray in the Spirit on all occasions with all kinds of prayers and requests. With this in mind, be alert and always keep on praying for all the saints." Ephesians 6:18

A. How are we to pray?
1. It varies with the INDIVIDUAL
- personality, background, age,etc.
2. It varies with the CIRCUMSTANCES
a) Intensity of the need (Hebrews 5:7, Luke 22:44,James 5:17 & 18)
b) "Seasons of life" of the person who is praying
3. It varies with the OPPORTUNITY
a) Throughout the day
(I Thes 5:17)
b) Special times ALONE
(Luke 6:12, 5:16, Mark 1:35)
c) Special times WITH OTHERS

(Acts 1:14, Matthew 18:19
4. Common factors:
a) Praise- Giving God glory for who He is and what He has done
b) Thanks – showing appreciation for what He has done
c) Petition – Asking God to do more
(These three things go hand in hand. Philippians 4:6, I Timothy 2:1)
d) Confession – In His presence our sinfulness is revealed to us and we ask
for forgiveness. (Psalm 66:18,19, I John 1:9, 3:21,22, Psalm 19:12,13)
e) Visualization and Verbalization (see below)
(Romans 10:9,10 Hebrews 13:15 Luke 11:2)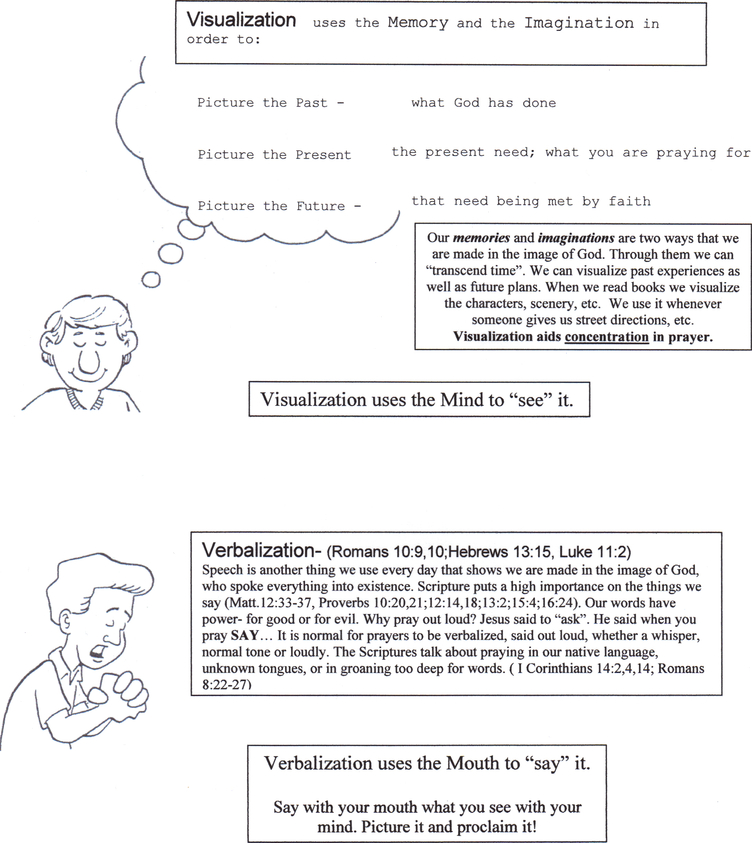 Prayer Workshop Lesson Two-1.docx
(First Half)
Prayer Workshop Lesson2 pdf.pdf
(Second Half with graphics)